---
Fran Chang, Old friends, 2022.
2022. Fran Chang

Sharp love on a silk chessboard

Painted with acrylic paint on silk, Chang's works invite the touch, the sin of the temptation to manipulate the paintings, to place them against the light at various angles, to see their verses and to analyze the meticulous ingenuity of the fitting of the woods that compose the cassis on which the artist lays the veil. Chang promotes a curiosity about the painting platform itself, questioning the technical possibilities and seeing how far one can go.
It is known that a 'haiku' is textual structure constructed from two synthetic parts. Although they appear to inhabit different worlds at first glance, these two parts are connected by a cut, the 'kiru'. This cut, paradoxically, connects these two universes and proposes a beautiful union between two images that were until then irreconcilable. This is how the artist integrates the power of her paintings with the vulnerability of her titles, from which her works cannot be dissociated.
By painting a blazing cloudy sky with clouds like islands, as seen through an airplane window, the artist baptizes one of her paintings as Você é a menina que sempre foi ["You are the girl you always were"]. On a placid beach, with clear skies and the horizon line formed by a mountain range, topped by a distant and lonely moon, we are accompanied by the title Receio ser arrastado longe demais ["Fear of being dragged too far"]. The integration between the subtlety of the delicate painting on silk and the assertiveness of the titles is breathtaking.
Chang also focuses on astrophysics - a field in which se also studied academically - and chess in her works. Analogously to the painting of nephology images - the study of clouds -, she titles works such as Zeitnot and J'Adoube, both expressions of chess games that serve to refer to relationships with the other, as if love were a game. The first term, Zeitnot, a German word, characterizes a situation in which the player is constrained by time, forcing a quick decision, as if the surrounding walls were quickly asphyxiating. The artist illustrates this moment with a top view of a clear blue sky filled with clouds with three large stars above the horizon line.
When painting a torrid black sky full of stars in a profuse meteor shower over the sea, with the moon at the crown of the composition, Chang translates this image with another expression of chess: J'Adoube, a French expression used when a player announces that will touch the pieces on the board, whether theirs or the opponent's, to adjust them to the best configuration.
Perhaps this is a precious description of what love is like. I warn you that I'm going to go through you pieces, inside, so that we can do everything in the best possible way, under a night sky with exit wounds. From these very powerful contrasts obtained bu subtlety, Chang creates an imagery and poetic atmosphere, elevating us to the stratosphere, where the air is thin, just as at the silky moment of falling in love.

/

Amor cortante em um tabuleiro de xadrez de seda

As obras de Fran Chang, pintadas com tinta acrílica sobre seda, convidam ao toque, à tentação de manusear os quadros, de colocá- los contra a luz em vários ângulos, de ver seus versos e de analisar a engenhosidade do encaixe das madeiras que compõem os chassis sobre a qual a artista deita o véu. Chang, ao utilizar esse delicado e inusual suporte, promove uma curiosidade sobre a própria plataforma da pintura, interrogando sobre as possibilidades técnicas e vislumbrando até onde pode-se ir.
Sabe-se que um 'haikai' é construído de duas partes sintéticas que, por mais que à primeira vista pareçam habitar mundos diferentes, são conectadas por um corte, o 'kiru'. Esse corte, paradoxalmente, conecta esses dois universos e propõe a união entre duas imagens até então inconciliáveis.
Ao pintar um ardente céu nublado com nuvens como ilhas, como visto pela janela de um avião, a artista batiza sua obra de Você é a menina que você sempre foi. Em uma praia plácida, de céu limpo e com a linha do horizonte formada por uma cordilheira, encimada por uma lua distante e solitária, somos acompanhados pelo título Receio ser arrastado longe demais. A integração entre a sutileza da pintura sobre seda e a assertividade dos títulos é arrebatadora.
Chang também se debruça sobre a astrofísica – campo ao qual também se dedicou academicamente – e o enxadrismo em suas obras. Analogicamente à pintura das imagens da nefologia – estudo das nuvens –, intitula obras como Zeitnot e J'adoube, ambas expressões dos jogos de xadrez que servem para se remeter às relações com o outro, como se o amor fosse um jogo.
O primeiro termo, Zeitnot, caracteriza uma situação em que o jogador é pressionado pelo tempo, fazendo com que tome uma rápida decisão, como se as paredes que o cercam fossem rapidamente o asfixiando. A artista ilustra esse momento com uma vista superior de um claro céu azul repleto de nuvens com três grandes astros acima da linha do horizonte.
Já ao pintar um tórrido céu negro repleto de estrelas em uma profusa chuva de meteoros sobre o mar, com a lua no coroamento da composição, Chang traduz sua imagem com a segunda expressão do xadrez, J'adoube, utilizada quando um jogador anuncia que tocará nas peças dispostas no tabuleiro, sejam suas ou do adversário, para ajustá-las à melhor configuração.
Talvez essa seja uma preciosa descrição, fornecida pela artista, de como é o amor. Aviso que vou mexer em suas peças para que possamos fazer tudo da melhor maneira. A partir desses contrastes obtidos pela sutileza, Chang cria uma atmosfera imagética e poética, elevando-nos à estratosfera, onde o ar é rarefeito, assim como no momento do apaixonamento.


Texto originalmente publicado na exposição "Sharp love on a silk chessboard" da VERVE, na ZONA MACO 2022, na Cidade do México, de 9 a 12 de fevereiro de 2022

Fran Chang, Everything will be a memory, 2021.
Fran Chang, Sobre isso, não existem dúvidas, 2021.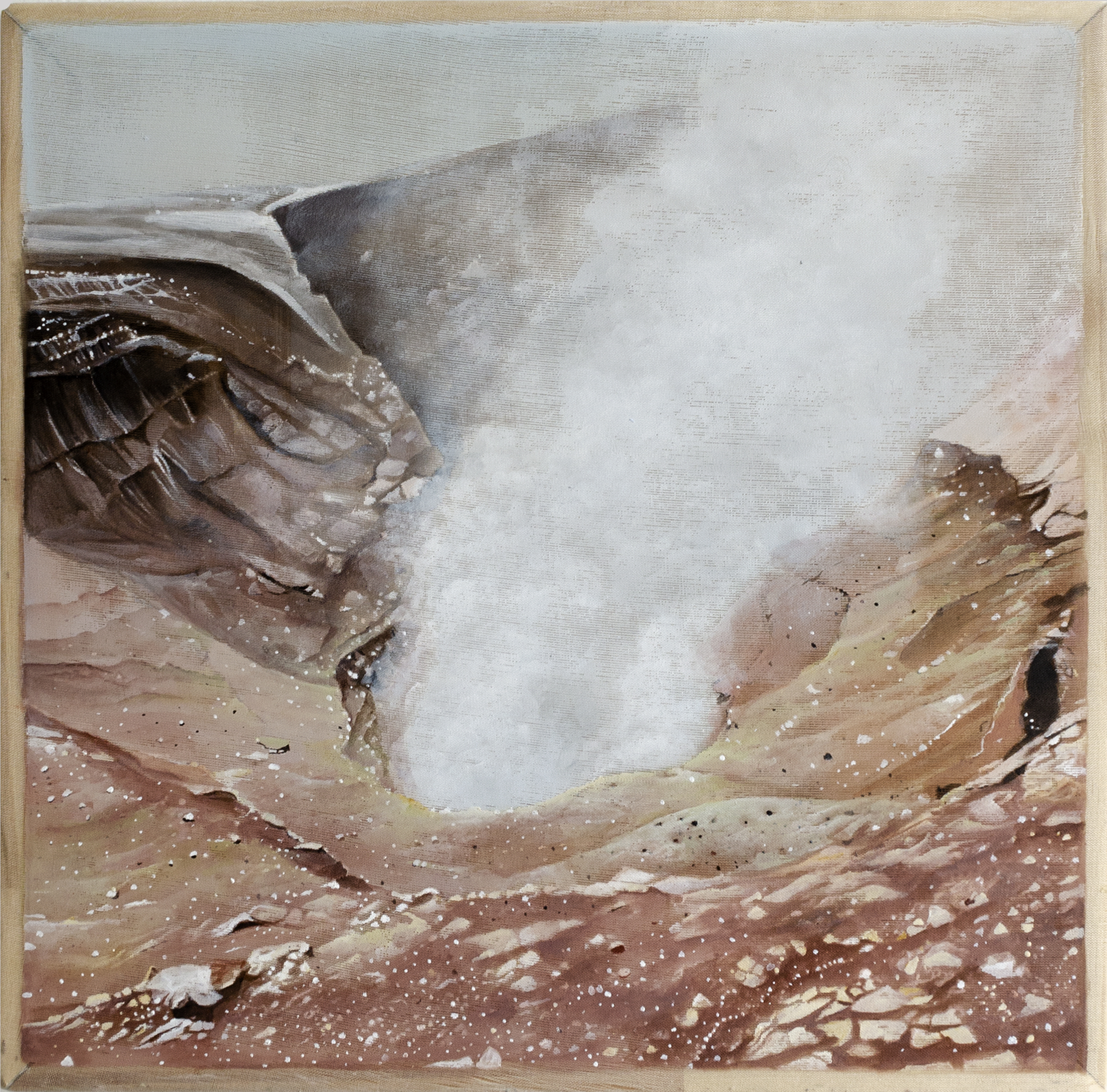 Fran Chang, Em um instante, a escuridão se torna instável, 2021.
Fran Chang, A vida que está no tempo e só pertence ao tempo, 2021.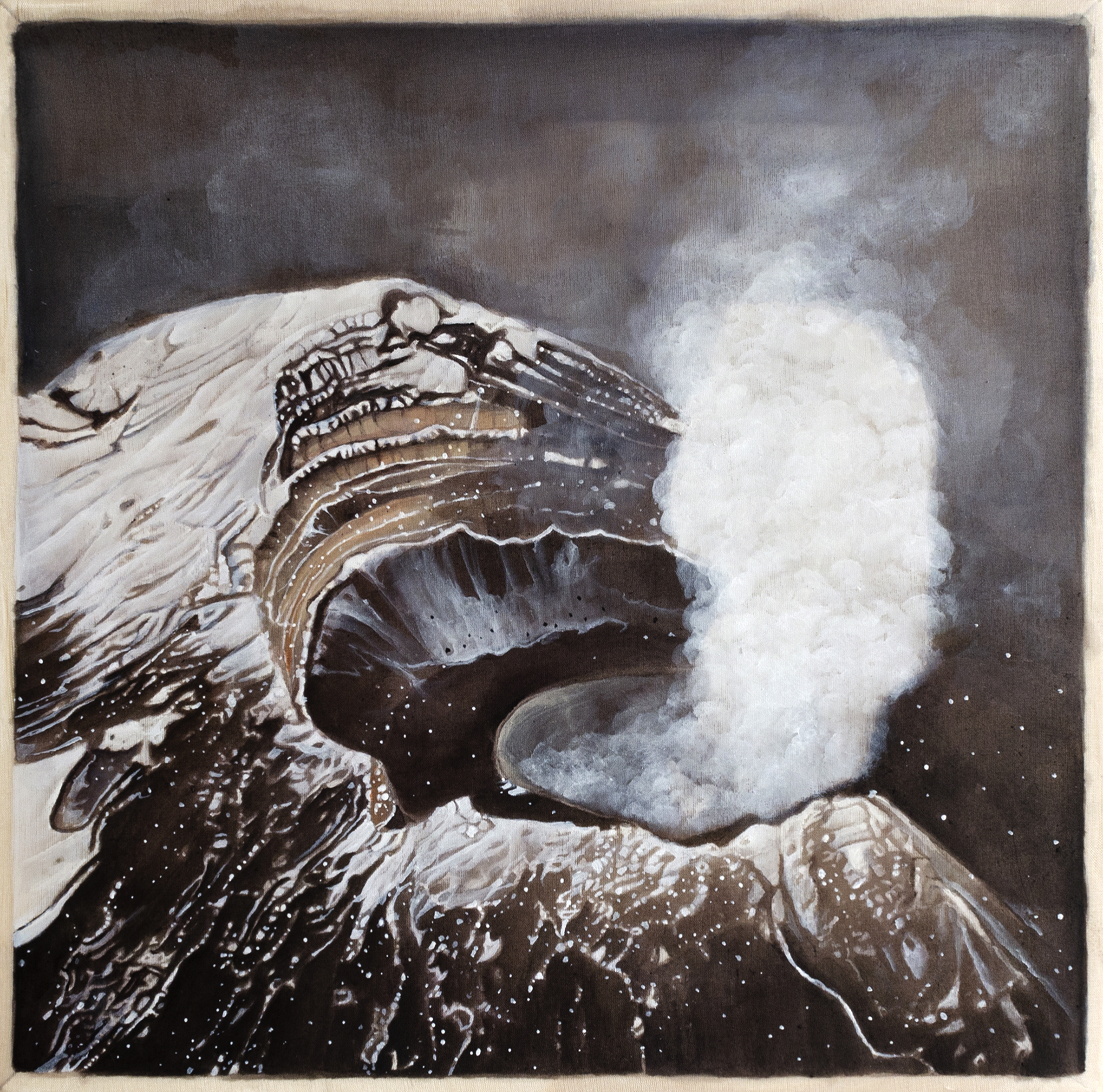 Fran Chang, I won't be afraid, 2021.
Fran Chang, Ainda assim, naquele momento, não seria capaz de me imaginar em outro lugar, 2021.
Fran Chang, A eternidade ignora certezas, 2021.
Fran Chang, Fifty-Fifty, 2021.
Fran Chang, Gambit, 2021.
Fran Chang, Remember me?, 2021.
Fran Chang, I get lost but i always come around again, 2021.
Fran Chang, It's a strange fear that allows me to be found, 2021.
Fran Chang, Say hello, wave goodbye, 2021.
Fran Chang, All-in, 2022.